Before sitting for the Dental Admission Test (DAT), a question that almost all candidates find themselves asking is what is a good, great, perfect DAT score? While the preferred DAT Score varies from school to school, here are the basics of what you need to know about your DAT score.
How is the DAT scored?
The DAT is scored on a scale of 1 to 30. Your raw score is the actual number of multiple-choice questions that you answer correctly for each section. Which means you will not be penalized for answering incorrectly. So you should not leave any answers blank even if you have to involve some guesswork to answer.
Your raw scores will not appear on your score report. Instead, you will be given your scaled scores that fall between the 1-30 range. These scaled scores are the ones that are later sent to dental schools.
Besides scaled scores for each section, the schools are also provided with a composite score. A composite score is a scaled score that factors in your performance in all the sections. The composite score is more than just your average score; it is an evaluation of your overall performance on the entire test.
Good DAT score
Most dental schools accept students with DAT scores of 19-20. This is the average DAT score, which corresponds to roughly 85th percentile of all test takers.
These DAT scores can, therefore, be considered as good enough. They put you ahead of the pack but don't provide you with a definite enough competitive advantage that would get you accepted to any dental school of your desire.
Here is a more in-depth breakdown of good DAT scores.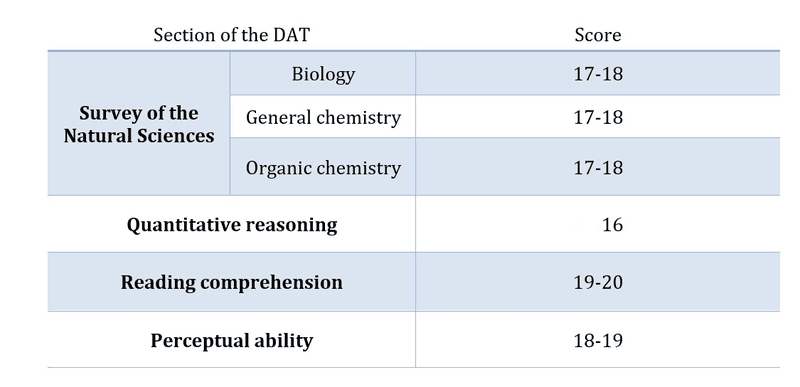 Great DAT score
A great DAT score would be one that can provide you with a competitive advantage by placing you ahead of people. You will be considered as one of the top 25% of all test takers.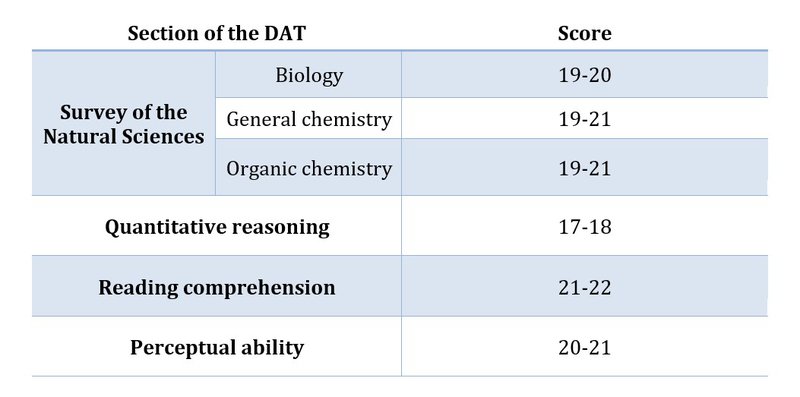 Perfect DAT score
The perfect DAT score would be to achieve a perfect 30. However, top DAT scores that place you in the top 10% of all test takers can also be considered as perfect DAT scores.
Now bear in mind whether you get into the dental school that you want not only depends on your DAT scores. Your GPA, personal statements, letters of recommendation also factor in your acceptance.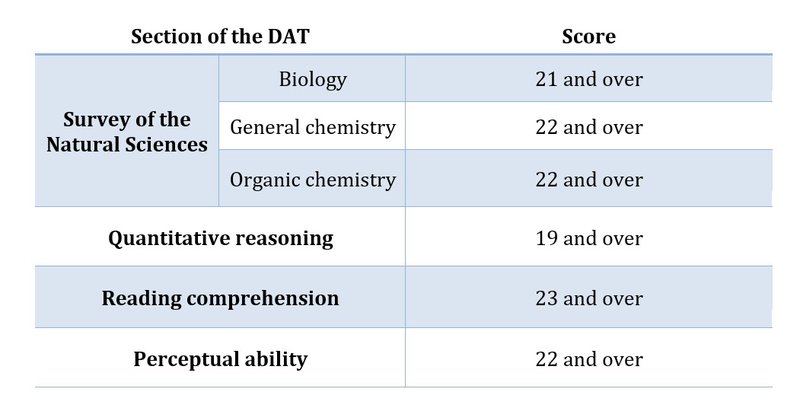 The foundation of your application is your DAT score and overall academic performance. Therefore answering the question of what is a good, great, perfect DAT score and scoring well is an essential step to your acceptance into a dental school admission. You can use this Dental School Admissions Calculator to figure out your chances of getting accepted into dental schools.