Once the Dental Admission Test is taken care of, you'll be well on your way to a future in dentistry. Chances are that you already know someone in dentistry or you're about to become a dentist yourself. In this piece, we will be dealing with the best and most useful gifts for dentists. While giving someone a gift is always a controversial topic, we will focus on the most useful gifts that you can give someone in dentistry.
Below you'll find a list with 7 great ideas that work as gifts for the dentist. We have put extra care into presenting these gifts based on the usefulness a dentist can give them. There are many reasons for each gift, we will be providing the most important ones, however. Without further ado let's begin with the list.
Our 7 best gifts for dentists.
1. Personalized plaques.
This is a typical gift for recently graduated people, it is always nice to display your accomplishments. This one is a gift that can be given to a dentist or almost anyone else. When it comes to the plaques themselves, they can be customized in different ways or simply have a classical style. You can even buy a plaque of a different material than its accustomed to, all in hopes of meeting the preferences of the dentist receiving the gift.
It's really up to the person receiving the gift on how to use it. Most dentists will use plaques to display important titles they have achieved during their life. Others will use plaques to commemorate special awards given to them at some point. The good thing about plaques is that they're very stylish and look great in a dentist's office. This is definitely one of the best, most useful and cheapest gifts for dentists.
2. Good shoes.
This one might seem like a bit of a regular gift, yet it is one of the most important ones. Being comfortable when you're a dentist isn't something that is recommended, it's something that you must accomplish for your best performance. This, of course, includes your shoes. Think about it, a dentist is working long hours most of the time and when you're working on a patient you'll usually be standing. You must give your feet proper support which will translate into comfort for your patient.
In addition to that shoes is one of the personal items that get the most use in a dentist's lifestyle. Most pairs get worn for hours and hours at a time, this really takes a toll on them. Most dentist likely prefers comfortable shoe wear, and find themselves buying a pair every few months.
Aside from all of that, when you're a dentist you have to take proper care of your health, this means exercising. Dentists do take jogging sessions and involve themselves in other physical activities. So, a good pair of comfortable sports shoes are a great gift for a dentist. I fact, you'll find that among the first things you do to prepare for the Dental Admission Test day is to go for a run, this is in our guide on how to prepare for the DAT. But that doesn't stop there, you should know that when you become a dentist you have to care for your health, read about it in our article.
3. A decent tumbler.
Tumblers are a good way to transport coffee and keep it warm for when you need them. A dentist's life is always fast-paced in the mornings when the offices need to be opened. You could gift them a decent tumbler to help them get their daily dose of caffeine in a proper way. If you do, make sure to use a model that really reflects the professionalism of the person. No strange drawings of cartoon characters as part of the design, please.
This doesn't mean that you can't personalize them, on the fact you should. Just make sure to do it in a way that is not too out there for the dentist to like. You can try signing the tumbler or depending on who you're giving it to, you can try to laser print a nice message for them. The though will always be appreciated.
4. Dental related artwork.
This one is a bit of a controversial idea in our list of the best gifts for dentists. The artwork is always nice to have around, especially if it's related to your profession. The problem is that some people just get too tired from work sometimes. This makes them not want to see anything that reminds them of that. So, really think about the type of person you want to give a gift like this to.
When it comes to artwork there are different approaches that you can take for a gift. You can think of a funny piece, a clever one or even one that is of abstract taste. Anything goes in the realm of art. The only thing that you need to be on the lookout for it's the art taste of the dentist receiving the gift. Other than that dental-related artwork can do the trick most of the time.
5. A cool mug.
While this one is a fairly simple gift, it is also one of the most useful ones. People do appreciate mugs because of their usefulness. Think that even if the dentist doesn't use them to drink anything from, they will still use them. Some dentist uses them to put some special tools that they want out of the public reach. Other use them to give their patients something to wash their mouth. There are numerous and diverse possibilities.
The best part of this gift is that you can customize the mug to actually make them more special to someone. Messages like "World best dentists" or "#1 Doctor in the office" never go out of style. Take advantage of this and make a really great gift out of something so simple as a mug. Also, don't forget that you can add in colors to everyone's taste, there's nothing wrong with classic colors tough.
6. Tooth socks.
Just in the event that you're a bit confused, no we don't mean socks for anyone's teeth. We mean a pair of funny looking socks like the ones below.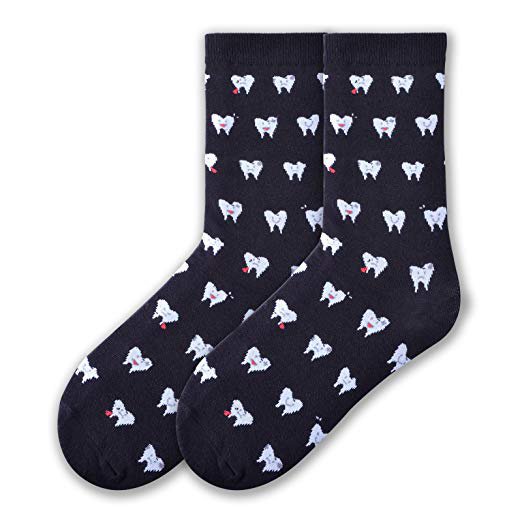 Everyone's life can be a little brighter with some humor into it. So, if you're looking for a good idea as gifts for dentists, tooth socks might do the trick for you. Think about it, people love things related to their careers, in this case, you're giving them something that is related and that they can use to crack a few jokes.
Whether for the office or for some personal time, this gift idea is a great one for a dentist. After all who doesn't like to carry something from the job they so dearly love. You can order a pair straight from Amazon if you click the image above.
7. Old or new dental tools.
As you may know, so far, dental tools have been used for a long time now. If the dentists you're looking for a gift for is someone interested in history, then it might not be a bad idea to get him or her an antique set of tools to keep in the display. This is sort of gift do add value to someone's dentistry office and make it look more believable and prepared. Just remind them that the set is only for the show.
If the case above is not something you're completely sold on, then you can think of giving a dentist a new set of tools. There are all sorts of tools in the market nowadays. Raging from the most recent sets to different types and versions that can sometimes be customized. Let's remember that tools are used all the time and are also meant to break. The idea of a new set of tools doesn't sound so bad now does it?
The actual set, whether old or new, doesn't have to be something too expensive. Let's remember that it's the intention and the thought of what counts.
Concluding our list of 7 best gifts for dentists.
By now you should have one or two good ideas to gift a dentist. Remember that we focused our list on the best and most useful gifts, so if you're looking for something a bit more personal this might not be your cup of tea.
In the event that you're actually looking for a gift for someone that is going to be a dentist someday, we may be able to help too. If the person is actually trying to get into dental school then preparation is of the essence. Given the case why not gift that person the best shot at preparation for the DAT? You can take a look at our recommendation for the best course to prepare for the DAT and choose from there. After all, all gifts presented here are meant for people in the dentistry business, but they also apply for people preparing to be a dentist.