It would be best if you switched to finishing and studying one full-length DAT practice test per day as your DAT study plan ends. Although being familiar with the subject is crucial for test day, the DAT also evaluates your test-taking skills. An unfamiliar location, a computer screen, or a ticking clock on test day might cause anxiety in test-takers who have spent weeks studying everything they can. When you become anxious during an exam, you struggle with simple math problems, make careless errors, question your answer selections, and waste time.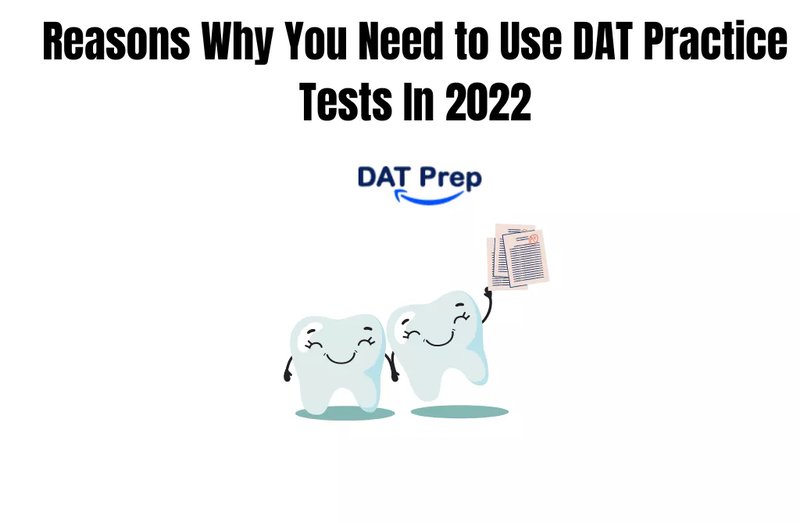 In this article, we will discuss the following —
What Is The DAT?
Why You Need To Use DAT Practice Tests
How You Should Practice DAT Tests
Conclusion
What Is The DAT Test?
The Dental Admission Test (DAT), which is used to admit students to dental school programs in North America, is governed by the American Dental Association (ADA) (the US & Canada). The exam is offered all year round at several Prometric testing locations in Canada and the United States, including Guam, the Virgin Islands, and Puerto Rico. The DAT programs were created in 1950 and have been in operation for roughly 72 years.
The DAT exam comprises English MCQs (multiple-choice questions) developed and produced per the necessary specifications. Questions on the DAT are drawn from the Reading Comprehension, Natural Science Survey, Sensory Ability, and Quantitative Aptitude areas.
Make sure you thoroughly read the DAT manual and familiarize yourself with the minimum eligibility requirements, the application process, test format and content, test results, policy, and guidelines before submitting an application form.
What Are DAT Practice Tests?
DAT practice tests are simulated tests that attempt to copy the circumstances of accurate DAT tests; this includes time constraints, similar question patterns, and difficulty level. These are like mock tests for any other examination you may be preparing for and yield the same benefits.
Why You Need To Use DAT Practice Tests
Familiarity With The Test Material
The truth is that you cannot honestly know what you have mastered unless you face a challenge. Many times, even when you believe you have a clear understanding of a straightforward subject, you will find yourself at a loss for words when faced with a question and unable to refer to your notes.
These are the ideal times to learn since you may fill that knowledge gap without suffering consequences. As you complete more DAT practice exams, you will continue to improve your understanding of the subject matter while preparing for the actual DAT.
Time Management
Time management is one of the most vital aspects of the DAT. For instance, you only have less than a minute to respond to each question in the science sections. Additionally, in one hour, you will need to read three lengthy texts totaling 1,500 words and respond to 50 questions on the reading comprehension exam. On the DAT, a basic understanding of the topic is insufficient; you must be proficient in responding to questions quickly.
You prepare for the timed pressure of the DAT by practicing under time constraints. I assure you that answering a question at your convenience with the TV on in the backdrop is far simpler. You could become anxious and make careless errors when you notice the time is running out. You can conquer this through practice and familiarity with timed questions so that the actual test comes naturally to you. Moreover, through practice tests, you will develop your method/procedure through which you can answer questions faster and correctly.
Conquers Anxiety
You've studied thoroughly for a test. You've gone through every book, every video, and every lecture possible and are now a global expert on the test topic. You are as prepared as one can be. But, as you sit in front of the exam paper, your mind goes blank. Your heartbeat rises, and you start panicking. Your results turn out subpar, and you are disappointed with yourself. Sound familiar?
This phenomenon is widespread amongst students, even the brightest ones. Anxiety is natural, especially for tests that are important for one's future. The only way to quell this anxiety would be to conquer it in your own time, precisely what DAT practice tests allow you to do. If you sit for mock tests under the same simulated circumstances as the accurate DAT tests, you slowly hardwire your brain to get used to such stressful situations. So, on the day of the real exam, you're nearly as anxious and can perform to your optimum level.
Stamina
It takes roughly four and a half hours to complete the DAT from beginning to end. You are not idle these four hours; you must answer challenging questions constantly and as quickly as possible. It would help if you withstood significant mental lethargy when doing so. By sitting for DAT practice exams, you can improve your test stamina and avoid getting exhausted during reading and math, which account for 40% of your overall academic performance (AA).
How Should You Practice DAT Tests?
There are several ways you can prepare for the DAT tests. These include reading prep books such as -
Kaplan DAT
DAT Prep Book by Mometrix
DAT Study Guide By Mometrix
Barron's DAT
The Gold Standard DAT
There are countless other books you can use for DAT practice tests. You may use additional resources, too, such as videos on YouTube. However, the most effective DAT test practice tool would be DATPrep.
DATPrep allows you access to thousands of questions, lessons, and practice tests. The DATPrep app is integrated into all devices so that you may review your lesson notes at your convenience. Moreover, DATPrep also gives you the option to learn through video lessons on its app/website.
Most importantly, DATPrep was built for practice tests. Its in-built capabilities, like its expansive question bank and analytics feature, rendering it the ideal practice test partner.
Conclusion
The DAT tests are critical to any aspiring dentist. Students should treat this exam with the utmost importance, and no stones should be left unturned. Practice with every resource available — books, ebooks, video lessons, and the internet.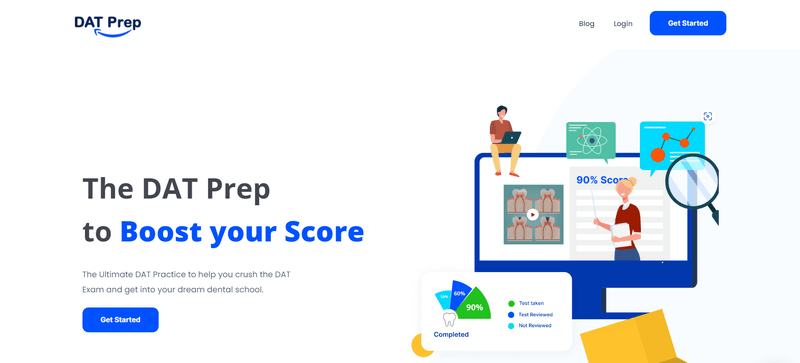 However, emphasize the practice tests. These are especially important as they mentally equip you with all you need to ace your DAT; familiarity with the test material, time constraints, and stamina. The best resource you may use to this end would be DATPrep since it comes with all you need to ace your DAT test – video lessons, thousands of questions, analytics review, and a dedicated support team.